The French archaeological mission for the Indus was founded in 1958 by Jean-Marie Casal, curator of the Guimet museum, on secondment to the CNRS, in a country that was traditionally the reserve of the Anglo-Saxons. This mission was originally an offshoot of the French Archaeological Delegation in Afghanistan (DAFA), of which Casal had been a member since 1951. Since 1975, this mission has been headed by Jean-Francois Jarrige, the current director of the Guimet museum and Catherine Jarrige, assistant director of the UMR 9993 CNRS/Guimet. The fieldwork is financed by the Ministry of Foreign Affairs and the CNRS.

From 1962 onwards, the mission has concentrated its activities in the province of Balochistan. The Nindowari excavations of 1962 – 1965, in a mountainous valley of southern Balochistan, have uncovered the traces of a settlement of more than 25 hectares belonging to the Kulli people, dating from the third millennium BC. In 1968, the archaeological mission concentrated its activity in the north of the Kachi plain and in the Bolan basin, situated at the Bolan peak pass, one of the main routes connecting southern Afghanistan, eastern Iran, the Balochistan hills and the Indus valley. This area of rolling hills is thus located on the western edge of the Indus valley, where, around 2500BC, a large urban civilization emerged at the same time as those of Mesopotamia and the ancient Egyptian empire. For the first time in the Indo-Pakistani continent, a continuous sequence of dwelling-sites has been established from 7000 – 500 BC, thanks to explorations of Pirak in 1968 to 1974; of Mehrgarh from 1975 to 1985; and of Nausharo from 1985 to 1996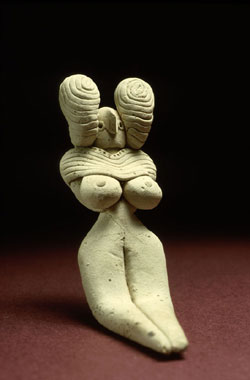 Last edited by Bolan on Tue Dec 27, 2011 9:48 am; edited 1 time in total

Bolan

Admin




Posts

: 1239


Join date

: 2011-01-08


Age

: 40



.It should be recalled that before these studies were undertaken, the first agricultural villages in these regions did not seem to date from any earlier that 4000 BC. Their emergence was credited to colonies arriving from either the Iranian plateau of from southern central Asia. But today the work at Mehrgarh has enabled a complete re-evaluation of the archaeology of these regions and particularly of the antecedents to the large urban settlement of the Indus valley. Mehrgarh's archaeological area spans nearly 300 hectares, containing traces of successive settlements since the aceramic Neolithic period (the end of the 8th and the beginning of the 7th millennium BC) until about 2600 BC, before the beginning of the Indus civilization. Evidence of nine levels of building, with nine corresponding levels of burial grounds, have been found in the Neolithic aceramic sector (period I). Houses of crude rectangular brick, some decorated with paintings on the external walls, were built to a roughly similar design. The agricultural economy was dependent on the cultivation of barley, but the staple meat diet was provided by hunting, even though the beginning of the domestication of goats was recorded at this time. During this same period, livestock farming overtook hunting and not only was the Indian zebu (Bos indicus) domesticated, the farmed variety became more common than the wild. Palynological studies have shown that plant growth was less lush then than exists today. The excavation of nearly 360 tombs has enabled a detailed study of funerary effects, which provides a wealth of anthropological and social indicators. The funerary effects include utilitarian objects, but also especially an abundance of ornaments of a quality which bears witness to the skill and energy of craftsmen using materials from relatively faraway regions, notably several seashells, lapis lazuli, turquoise, steatites and calcites. The dead were sometimes buried with tarred baskets at their feet. Amongst the layers at the end of Period I were found ornaments with copper beads, one of which still carried the trace of a cotton thread, the oldest known example of this fibre being used.

With the dawn of period IIA, about 6000 years BC, the first pottery made from unrefined clay began to appear. The development of agricultural activity is clearly borne out by the presence of impressive collections of buildings containing crates and partitions, identifiable in many cases as being used for the storage of cereal crops. In the period IIB, pottery becomes more refined. But it is not until a little after 5000 BC that geometric designs painted onto increasingly elegant receptacles begin to appear. The ancient chalcolithic period (Period III), between 5000 BC and the first half of the 4th millennium, is distinguished by remarkable advances in crafts and ceramics in particular. Ceramics made from fine-quality clay, mounted on a turntable, are lavishly adorned with pictures of wildebeests and birds. Also noteworthy is the production of beads of steatite, baked and then varnished with a green copper-oxide glaze. Metallurgy progressed, and remains have been found of studios where lapis lazuli and turquoise were worked.


Neolithic from Mehrgarh (7th mill. BC) © C. Jarrige
In the fourth millennium and in the first half of the third, the Mehrgarh potters and those from other parts of Balochistan alike became known for producing very high quality ceramics which were either exported or copied in eastern Iran, southern Afghanistan, and even as far as present-day Tadjikistan, notably at the Sarazm site. These periods are also distinguished by the manufacture of human figurines of a high aesthetic quality, whose attributes seem to suggest references to an underlying mythology still unclear to us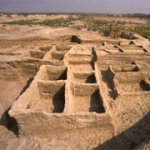 Last edited by Bolan on Tue Dec 27, 2011 9:52 am; edited 3 times in total

Bolan

Admin




Posts

: 1239


Join date

: 2011-01-08


Age

: 40



The Nausharo excavation, 6 km from Mehrgarh as the crow flies, revealed a dwelling-site contemporaneous and identical to the Mehrgarh one between 3000 and 2500 BC and another, divided into three periods between 2500 and 1900 BC, characteristic of the urban civilization of the valley of the Indus, which is also referred to as the Harappean civilization, from the name of the eponymous site of Harappa. This excavation of Nausharo allows theIndus civilisation to be linked to the cultures which preceded it since the Neolithic and the ancient Chalcolithic times. The excavation of the Harappean layers led to the uncovering of a settlement which met the criteria of the urban civilization of the Indus, with discrete rectangular zones, and with the existence of baths and hydraulic features. The study of Harappean ceramics in Naushara has brought to light a clear stylistic evolution over time, thus contradicting the theories claiming that Harappean pottery had remained static for several centuries. Starting from a period of about 2100BC, which corresponds to Period IV of Nausharo, ceramics and other objects begin to appear in the Bolan basin which are comparable to those from sites in Afghanistan, Turkmenistan, Uzbekistan and the east of Iran. Some of these objects had been found previously, notably on the upper levels of the great civilization sites of the Indus, such as Mohenjo-daro and Chanhu-daro. It had been thought that these were in fact remains which indicated the arrival of invaders from the West and from the North-West. Thanks to the Nausharo dig and to the discovery of necropolises (the Mehrgarh VIII cemetery) and of various sites on the edge of Nausharo or Mehrgarh, it is now clear that the "exotic" objects belong to groups who have co-existed with the "Harappean" populations, evidently peaceably. It can even be asserted that all these objects are an indication of the development of very important trading activities whose agents between the Indus valley and Mesopotamia were groups who controlled the routes for inter-Iranian exchanges around 2000 BC
Last edited by Bolan on Tue Dec 27, 2011 9:53 am; edited 1 time in total

Bolan

Admin




Posts

: 1239


Join date

: 2011-01-08


Age

: 40



Between 1800 and 1900 BC, the urban civilization of the Indus disappeared to survive, in derivative forms, only in the territory of present-day India. The excavation of Pirak, a settlement of about ten hectares inhabited between 1800 and 600 BC, reveals the beginning of a new age. Several miniatures of horsemen and horses and of two-humped camels – animals unknown in the Indus civilization – symbolize important changes in society. The emergence of horsemen at Pirak, just like the discovery of horse skeletons at the time in the Swat in the north of present-day Pakistan, is to be considered in the context of the arrival of new populations belonging, perhaps, to the very first Indo-Aryan groups mixing with a local community with an increasingly diversified agricultural economy. It has been noted that in fact the cultivation of rice, which demands the use of irrigation techniques, became predominant.

As for the structures where the interior walls are punctuated with rows of symmetrical marks, sometimes on four levels: these represent a style which was still found a few years ago in houses, particularly in Hindu areas, in this region. About 1200 BC, iron utensils and weapons would emerge.

Since the end of the expedition in 2000 to the Neolithic part of the Mehrgarh site, fieldwork has been halted to allow for deeper analysis of date and to write up publications. In 2003 there was an expedition to study the material at Mehrgarh, and the dig was scheduled to resume in 2004.

Bolan

Admin




Posts

: 1239


Join date

: 2011-01-08


Age

: 40




---
Permissions in this forum:
You
cannot
reply to topics in this forum